You are here
President and Executive Officers salaries in Brazil 2015
We launch this study in a very challenging period for Brazil's economy, but also a period full of opportunities. On the past couple years Brazil has been though some relevant changes on the corporate world, such as industries that got stronger and consolidated themselves on the national market, the arrival of multinationals that weren't yet present on the country and the intense activity of the private equity funds.

Great part of these industries were directly hit by a strong growth in a short amount of time, followed by a recent decrease due to the same movement reflected on the national economy. That scenario caused such strong move of high level executives that even Medium Size companies started to offer new arrangements of compensation and benefits to have an additional instrument to retain the talent outflow. The set of tools that compose a c-level professional compensation is key to attract and retain the best professionals, as it is essential to align interests of shareholders and executives.

We interviewed more than 1,000 executives of our total base of guests that occupy the main seats of their companies and one of the study differentials is the strong focus on midsize companies, which are the one with the biggest lack of market information.

Please check some of our highlights below:
Long-Term incentive
We noticed in this last survey a slight increase in long-term incentives as Stock Options and Retention Bonus for those who claimed to receive such benefits. Among the reasons that explain this slight increase is the low number of annual bonus given (due to the results of the previous year), the necessity for retention and interests alignment of shareholders and executives.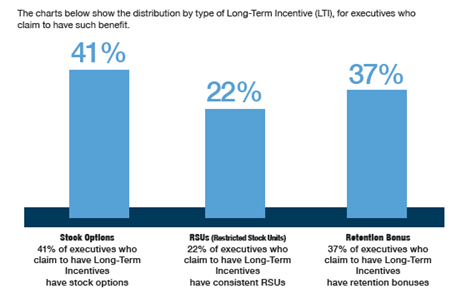 D&O insurance
Even facing a period of salaries maintenance, or facing a budget retraction, the D&O Insurance has established itself as a common practice in the benefits package of Executive Officers. In 2014, this practice remained almost in the same levels if compared to 2013, except for a slight decrease in the share of professionals working for Brazilian companies. However, since the first survey conducted by Page Executive, Insurance D&O has established itself as a common practice in the benefits package for statutory officers.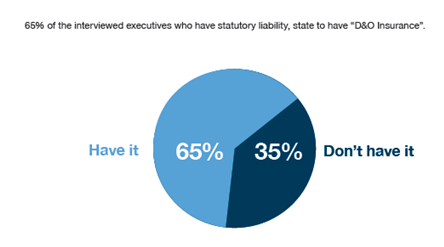 Total compensation balance
Just a few positions in 2015 suffered large increases when it comes to base salary, especially if compared to the previous year. This is the result of a year with poor results for most companies, which also needed to reduce costs in compensation. However, it is possible to realize a balance between base salary, bonus and long-term incentives offered for each office executive, demonstrating, in general, a swing and a progressive increase in average total remuneration received. This maneuver makes the compensation package, in general lines, still attractive and able to stimulate better results that will be reflected in bonuses received in 2016.