You are here
Harvey Nichols Retail Dinner – September 2014
In September 2014, Page Executive retail practice invited a group of retail leaders to discuss market trends and the changes that retailers will have to manage to be successful in our fast-changing industry. Director General of the British Retail Consortium, Helen Dickinson discussed the key trends and changes within the retail market and Julian Burton, organisational change lead from Delta 7, presented on how you agree a unified strategy at board level and then engage the whole company for success.
In retail, this is more important than any other industry; with 3 million employees in retail in the UK, a third of these are under 25 and 50% are part time. Shop floor staff are the front face of your business. How do you ensure that these key messages and values reach the sales teams in a consistent fashion?

Helen Dickinson's five key trends/changes in the retail market
Retailing was, is and always will be, about understanding the customer. Technology and data have driven a sea of change in how you understand your customer. How good are you at converting the millions of megabytes of data that is available, into understanding your customer?

Customers don't think in channels. To customers there is just one sales journey that can't be measured in channels. So, are you still thinking in channels? Or do you have one view of your customer, one stock file, one business that serves across those channels and do you have a way to measure customer or segment profitability and not channel profitability?

The high street is not dead. There are many successful high streets around the country but they are re-inventing themselves by building on people's desire/craving for community and engagement. In those successful high streets there is local collaboration, a vision and leadership which is clear about why someone should want to visit the high street. From a retail point of view, this is about using physical space in a different way; moving from a functional exchange to an experiential one based on engagement, excitement and emotion – the things that you can't replicate on your sofa.

How you do what you do will be as important as what you do. Something WILL go wrong. And in today's world of social media, your customers will probably know before you do. Do you put as much effort into your stakeholders' engagement contingency plans as you do into the systems and processes throughout your business?

Command and control leadership just won't work. In the rapidly changing industry of retail, we have to build in flexibility to be able to respond, adapt, test and learn quickly. We need to be prepared to take a few risks and get a few things wrong. We can't have standard processes and expect everyone to follow the rules. The trick is to stand for something and get everyone behind it, to set a clear direction and values and then give people the freedom to operate in a framework that holds everyone to high common standards.
Common strategy themes
Delta 7 supports business leaders to bring their business strategies to life and engage employees in the change required to achieve results.
Julian and Eli from Delta 7 instigated an exercise on the evening for all attendees to visually bring their strategy to life to engage their whole team team.
Common themes came out including:
Attracting, retaining and developing female executive talent
Managing a truly omni channel offering, and the change in skill set of store staff required to help provide this service
Developing internationally and the challenges to the brand, heritage and supply chain that go with this
Maintaining a consistent brand message and pricing strategy, not just in the UK but around the world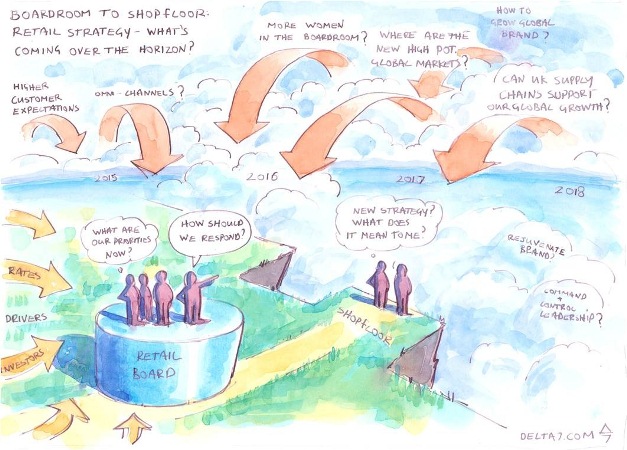 For executive recruitment solutions or if you're interested in attending future events, please contact the team at Page Executive consumer practice.