As part of our Leading Women series, we want to highlight the professional challenges and career aspirations of women we work with in Asia. In this feature, Hilda Chan, Vice President of Operations for Hasbro in the Asia Pacific and the Middle East, talks about the challenges of being a female leader, the importance of continually learning and upgrading yourself, and the necessity of staying one step ahead. Hilda is one of the inspirational female leaders in Supply Chain & Procurement in Asia helping to pave the way for other women to achieve success and climb the ranks in this field.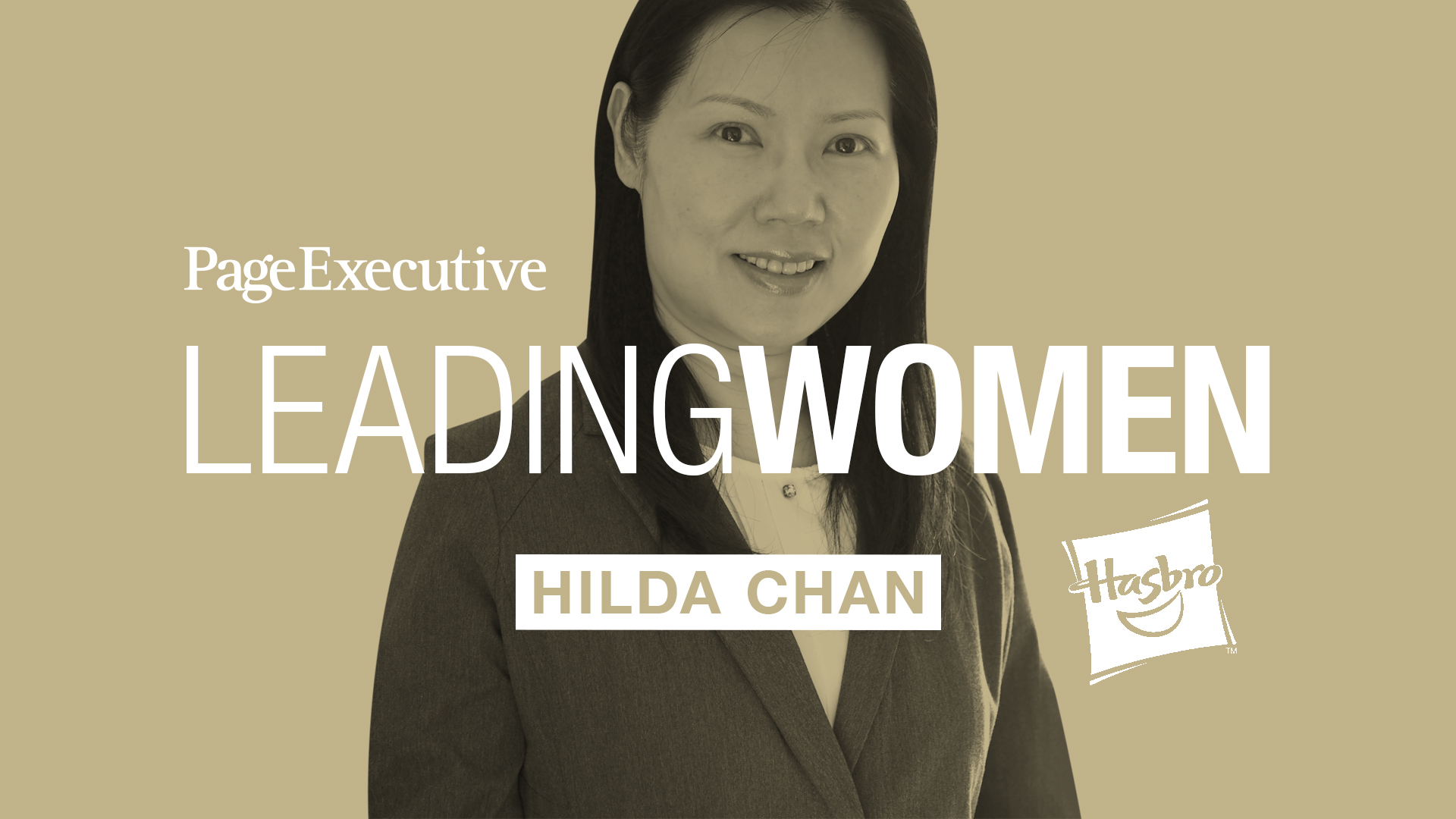 Q: What is your role at Hasbro?
I am currently the Vice President of Operations for Hasbro, covering the Asia Pacific and the Middle East. As the Head of Supply Chain (including Planning, Customer Service and Logistics), I set strategies and partner with global and APAC leadership teams to drive sales, and build new structures and competences to support future growth plans. Moreover, I play a major role to practice and advocate processes and procedures within forecasting and planning. I also manage demand and supply with the global management through efficient capacity and production management. And I work with my team to deliver strong KPI(s) on ageing/excess management, forecast accuracy, DOS reduction and logistics cost improvement.
Q: How did you become interested in the supply chain / logistics field?
Like most fresh graduates, I did not have a concrete direction to which industry or profession I should pursue. With my business management background, however, I was keen to join a sizeable industry leader to be a part of a successful business operative model. I was lucky enough to start my first job in American President Line, a 3PL (service provider), as a Sales & Marketing Executive, where I learned what Logistics is. While learning more about Sales & Marketing, and transportation, I discovered a bigger Supply Chain world when I met my key MNC clients. There are different roles within Supply Chain Management (SCM), such as procurement, supply & demand planning, manufacturing, warehousing and customer services, and much more. From there, I decided to move to an institution where I could learn the complete end-to-end SCM processes, so I joined Philips Electronics as a demand planner and started my supply chain management career.
Q: In reaching the level of success you have, if anything – what have you sacrificed along the way? Have you experienced any barriers in the journey to becoming a leader?
It would never be a sacrifice if you really enjoy your career. Fortunately, I have very strong support from my family as one could only imagine how tough it would be when you are out of town for almost 40% of your time.
With regards to barriers in the journey to becoming a leader, I would reckon the "lack of breakthrough". It typically happens when you are promoted from a tactical role to a more strategic position. That could also happen when you focused on the same market or position for too long a period. I strongly encourage mentoring relationships within organisations. Individuals should consistently learn new skills and update skills that are related to their current roles. As always, luck favours the prepared!
Q: What lesson/story can you share from your experiences that is unique to being a woman?
When I was the Procurement Manager for Medical Devices at the regional level, I needed to negotiate the helium contracts for the MRI system. Helium is a special gas that is only available from a few suppliers globally. It was a tough negotiation, and the prices quoted by most of the suppliers were at least 20% higher than the previous contract price.
I realised that the pricing negotiation process for regional markets were handled individually, so I talked to the global level management of those suppliers and suggested a global negotiation deal. Finally, we accepted a 5% increase in price paired with a 3-year fixed rate.
One of the suppliers' global heads told me that he was surprised I would knock on the global door and ask for direct discussions. He was glad to see how I had balanced both the frequently neglected companies' benefits and the primary priority of cost factor.
Female leaders have our own traits, especially things like soft skills. We should utilise these qualities such as perseverance, empathy and passion.
Q: What's the greatest risk you've taken?
The greatest risk that I have taken in my career experience was my move from Hong Kong to Singapore in 2008. The challenge was to close down the Asia Pacific Regional Headquarters in Hong Kong and build a new headquarters in Singapore with my management team. I had to start from scratch and rebuild the whole supply chain team in Singapore, covering planning, customer service and logistics. Apart from the challenge of relocation, my comfort zone was challenged through the culture shock I experienced. We faced a number of team member conflicts due to the diversity of the team, with people coming from all walks of life. It was my first time handling a team of this nature, so there were some learning points for me. With all the challenges we were facing, we were still expected to uphold a seamless customer fulfilment process.
It is true that you will never grow unless you try to do something beyond what you have already mastered, so I'm glad I was able to step out of my comfort zone and challenge myself.
Q: What are the traits of leaders you admire?
I would like to use the word "CCTVs" to express my thoughts here. CCTV, as surveillance cameras, are broadly used to prevent crimes. One should never have to worry about CCTV if they are honest by nature. So, the first trait for a leader that I admire most is someone who possesses integrity.
I can probably explain that better, by using my personal leadership brand statement: "I want to be known for being Visionary, Trustworthy, Collaborative and Strategically results-oriented, so that I can Champion customer excellence and drive revenue for my business".
Leaders who have integrity will likely be authentic leaders who can drive vision and purpose, be decisive, innovative, inspiring, and most of all, be bold enough to take ownership, and keep growing oneself and the team.
Q: What is the best advice you have ever received?
I was blessed to have mentors during my career growth. There are a few nuggets of wisdom that hugely influenced me.
The first one is related to a gift that I received from my first CEO. Prior to his retirement, he gave me a small wooden board with the inscription: "Beating the competition is relatively easy. But to better yourself requires a never-ending commitment". Constantly challenging the status quo and investing in your growth are crucial to success.
The second one came from the black belt program: "What you see is not always what it seems". That gives me excellent insights, especially on critical problem-solving moments. It is always amazing to discover the root causes are not the same as the originally expected "answer" after critical, fact-based analysis. This reminds me to keep at being a good listener. Never jump to conclusions merely based on past experience and perceptions.
The last one is a famous quote: "People will forget what you said. People will forget what you did. But people will never forget how you make them feel". As a good leader, you can only achieve through team playing and working with all stakeholders around you. Human dynamics are always essential to the success of any project or task.
Q: Would you have done anything differently in your life (career or personal) if you knew what you know now?
Maybe I can relate this to one of the projects that I accomplished during my first year at Mattel. I was asked by my COO to close 30 local vendor warehouses in China as soon as possible. Since I had done a similar project before, I was fully energised and confident that I could quickly accomplished the task.
While I was pushing to meet the tight timeline, I missed out on some minor details regarding manufacturing, toy industry norms, and challenges on mapping out demand and supply forecasts. Since all team members were all committed to hitting the deliverables, we also did not foresee the challenges we would face regarding local government regulations concerns.
Fortunately, we had a Plan-Do-Check-Act plan which helped us realise in the early part of the project that our plan was too aggressive and we would risk jeopardising the business if we closed all 30 warehouses.
In the end, I managed to retain two warehouses while having a central bonded warehouse, to avoid negative impacts on the logistics flow.
Lesson learnt here: Imagine there is a jigsaw puzzle in front of you. When you take out one piece of the jigsaw and change the shape, you will eventually fail to complete the picture. There are always unintentional consequences during any transformation action. Make sure you do not miss out on any details while tackling a challenging timeline.
Q: Any tips you'd like to share with anyone especially females wanting to get to the top in business?
I focus a lot on "balancing": The balance between "working together" and "direct order," and between "top-down" and "autonomy". Women in the leadership race are sometimes faced with unfair stereotypes, especially when they are characterised as being too emotional or too cooperative . However, with more females joining the C-suite, it should be more a promising time for females to get to the top in various businesses.
Women should be confident in facing "the brave new world," since this is an era of innovation and ideas without boundaries. It is also an era to strive for co-operation across different age groups, genders, teams, companies and even industries, instead of purely driving results within a simple hierarchy. The natural qualities of women can bring diversity and inclusiveness to teams, which are critical for the existing global business environment.
Q: If you could have one superpower, what would you like it to be?
I would like to be able to read people's minds and know their true thoughts. That will avoid a lot of misunderstandings and allow better win-win relationships or results.
Q: Which of your personality traits always gets you into trouble?
I sometimes like playing the "Devil's advocate" role. Maybe it is because my profession is in Supply Chain which is very much based on facts and data. However, sometimes "fact" is not always appreciated and welcomed by others.
Q: If you could write a book that was guaranteed to be a best seller, what would you write?
I would love to write a book on "Women executives in Supply Chain in Asia," since there are only a few female executives in Asia, especially in the Supply Chain discipline.
Q: How would you sum up 2020? What was the biggest take away for you?
2020 was a year of surprises. The biggest take away from 2020 is to expect the unexpected. Facing a crisis is always the best time to reinforce your basic skills. How do you motivate your team? What is the key focus and priorities? A true leader would never shy away from the challenge or get tired of reviving the business during difficult times.

This interview was conducted by Eliza Ho, Partner with Page Executive and Head of Supply Chain, Operations & Procurement Practice, with a primary focus on the search and selection of business leaders, functional heads and C-Suites within the Supply Chain space. She brings 14 years of executive search experience supporting clients on leadership level hires within APAC.
Being a specialist recruiter in the world of Supply Chain & Logistics which is still traditionally seen as a male-dominated sector, Eliza has witnessed the growth in female leaders in the region. Working on various senior assignments in the region has given her the opportunity to meet a number of highly accomplished female leaders in the industry. Many of them have risen the ranks within their organisations due to their capabilities, tenacity, strong work ethic and support from family, friends and co-workers.
For the next 6 months, Eliza will connect with some of these successful female leaders in Asia to talk about their personal and professional challenges in achieving success in the Supply Chain & Procurement sector.
Partner with Eliza Ho to strengthen your senior leadership team.