You are here
2014 – A Year in Executive Finance Recruitment
2014 was the year when the economic and recruitment market promised a great deal in the early months but the volatility of previous years lingered longer than we would have liked. More aborted IPOs than in previous years, down beat expectations for global growth, unusual weather conditions and continuing euro zone struggles, meant that the UK recovery continued but under the radar. That said, our executive search business went from strength to strength during 2014 and grew faster than any of the preceding 10 years. We found generally that, amongst those companies who wished to make changes in their leadership team, there was a desire to make real decision around acquiring new talent compared to the perceived market "bench-marking exercises" in previous years. Similarly, we found that once the decision was made and we were selected to begin a search, our clients moved more speedily than in previous years to facilitate new leadership joining the business as soon as possible.
Looking back at 2014
Our UK search team now consists of almost 50 consultants with either an industry specialism (consumer, energy, professional services, TMT, not-for-profit, engineering and manufacturing) or a functional specialism (human resources, sales, technology, procurement, supply chain, policy and general management).
Our belief in the future of the executive search market also prompted increased investment in our CFO practice which has grown to 18 people with either a regional or specialist market focus. Operating from Scotland to the South Coast with specialists in tax, treasury, internal audit, investor relations alongside the more generalist CFO/FD/functional leadership specialists, we have grown to become a top 10 UK search firm.
Events in 2014
In September, Page Executive hosted a retail dinner at Harvey Nichols. Our guest speaker, Helen Dickinson, director general of the British Retail Consortium presented some of her key observations about the future of UK retail in 2015 and beyond.
In October, our annual national CFO dinner found 120 CFOs dining at Two Temple Place – a superb venue of Downton Abbey series two finale fame. Martin Johnson entertained us with colourful stories from his career and gave his forecast for next year's World Cup.
Also during the fourth quarter, we hosted our annual lunch at the stunning RAC in Pall Mall where 50 finance directors from the charity, housing and education sectors were in attendance. Later in October, 40 government finance directors joined us at a less formal lunch where our guest speaker was Julian Kelly, director general of Public Spending and Finance at HM Treasury.
Page Executive finance recruitment statistics for 2014
Sources of selected candidates
Below is a review of our concluded searches and the method used to source the candidate. As a top 10 search business, with a network that spans 37 years, it makes sense that over half of all positions we recruit are concluded with an individual who is known to us as a business. This network is not limited to the individual consultant or regional specialisation but spans our international network. A recent airline CFO position was concluded with an individual who was recommended to us by our CFO practice in Australia.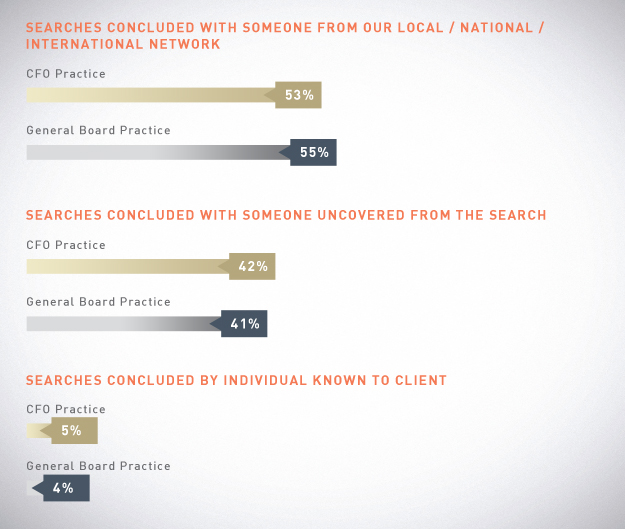 Sectors
For the CFO practice, the most common sectors where we recruited successfully this year were manufacturing/utilities/oil & gas yet the consumer/retail sector was the most dominant within our general board practice. These sectors historically have tended to have more inflexible sector bias in search assignments.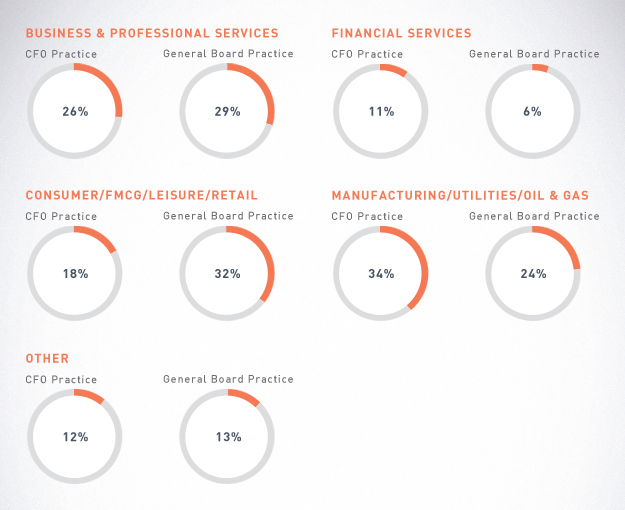 Speed
The market's general appetite for speed has increased dramatically this year in comparison to previous years and in comparison to the industry average. This tends to be one of our strongest attraction points in the current market as opposed to some of the traditional search businesses who can take up to six months to produce a qualified shortlist.
30% Club
PageGroup joined the 30% Club in 2014. The 30% Club launched in the UK in 2010 and aims to increase the number of women on FTSE-100 boards to 30% by the end of 2015. It's currently at 23% up from 12.6% in 2010. This has been a focus for us in the CFO practice and we aim to have at least 30% women on every one of our final shortlists. Finance has historically been a more challenging career for women given the continuous intensity around monthly/quarterly/annual peaks in demand for information from the market but in 2015, 12% of the successful placements on boards have been women with a much higher percentage of females on shortlists than ever before. Accelerated progress has been achieved through the leadership of chairs and CEOs in businesses expressing a strong desire for and interest in broadening the diversity on boards.
We are optimistic about what 2015 will bring and would be very interested in any comments you may have on the above. Feel free to contact Lucia Knight, business director to discuss any of the facts or trends discussed above and how they may relate to you or your business.