You are here
Register now: IWD 2021 Asia Pacific webinar - Well done is better than well said
One of the most common conundrums that organizations face is why their gender and diversity programs are ineffective. Companies are now starting to invest a lot of time and resources into, but many struggles with creating training programs and implementing systems that produce real changes. Despite the popularity of gender and diversity, organizations grapple with how to overcome "diversity fatigue," a term coined to mean diversity efforts that are lip-service and simply for face value.
Rethink and reinvent the way you lead gender diversity as a growth strategy – Is both acceptance from your teams & long term adoption possible? Join us with a panel of experts on this International Women's Day as we share tangible actions to increase the effectiveness of gender diversity programs in Asia Pacific and discuss how companies can overcome the pitfalls that are often experienced.
March 8, 2021, Monday
10.00am – 11.00am (GTM +8)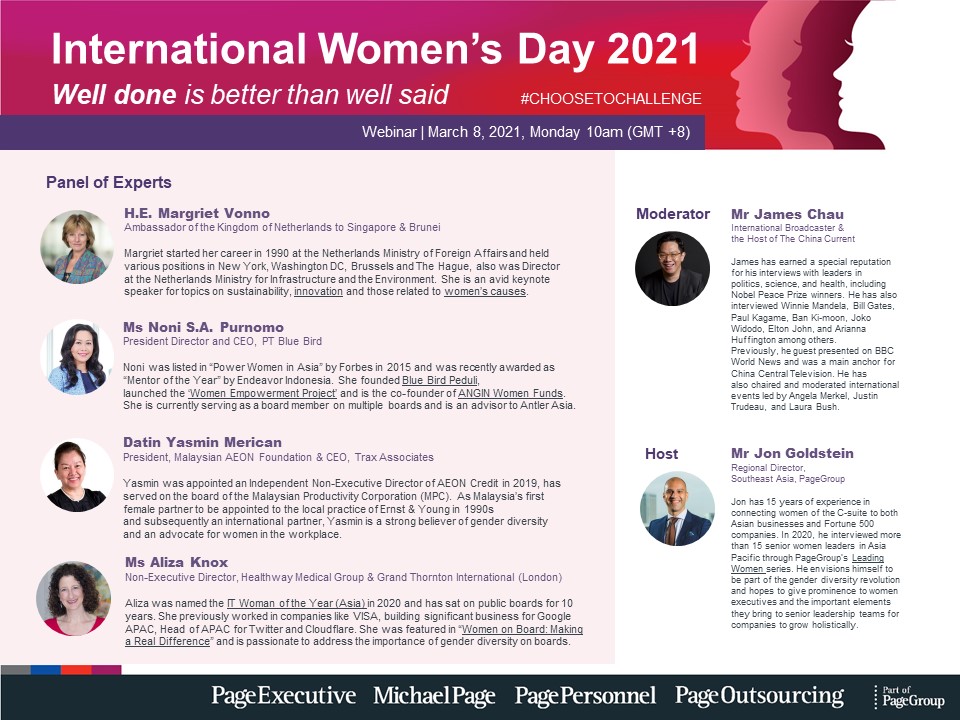 Panel of Experts
H.E. Margriet Vonno
Ambassador of the Kingdom of Netherlands to Singapore & Brunei
Margriet started her career in 1990 at the Netherlands Ministry of Foreign Affairs and held various positions in New York, Washington DC, Brussels and The Hague, also was Director at the Netherlands Ministry for Infrastructure and the Environment. She is an avid keynote speaker for topics on sustainability, innovation and those related to women's causes.
Ms Noni S.A. Purnomo
President Director, PT Blue Bird
Noni was listed in "Power Women in Asia" by Forbes in 2015 and was recently awarded as "Mentor of the Year" by Endeavor Indonesia. She founded Blue Bird Peduli, launched the 'Women Empowerment Project' and is the co-founder of ANGIN Women Funds. She is currently serving as a board member on multiple boards and is an advisor to Antler Asia.
Datin Yasmin Merican
President, Malaysian AEON Foundation & CEO, Trax Associates
Yasmin was appointed an Independent Non-Executive Director of AEON Credit in 2019, has served on the board of the Malaysian Productivity Corporation (MPC). As Malaysia's first female partner to be appointed to the local practice of Ernst & Young in 1990s and subsequently an international partner, Yasmin is a strong believer of gender diversity and an advocate for women in the workplace.
Ms Aliza Knox
Non-Executive Director, Healthway Medical Group & Grand Thornton International (London) ​
Aliza was named the IT Woman of the Year (Asia) in 2020 and has sat on public boards for 10 years. She previously worked in companies like VISA, building significant business for Google APAC, Head of APAC for Twitter and Cloudflare. She was featured in "Women on Board: Making a Real Difference" and is passionate to address the importance of gender diversity on boards.
Moderator
Mr James Chau​
International Broadcaster & the Host of The China Current ​
James has earned a special reputation for his interviews with leaders in politics, science, and health, including Nobel Peace Prize winners. He has also interviewed Winnie Mandela, Bill Gates, Paul Kagame, Ban Ki-moon, Joko Widodo, Elton John, and Arianna Huffington among others. Previously, he guest presented on BBC World News and was a main anchor for China Central Television. He has also chaired and moderated international events led by Angela Merkel, Justin Trudeau, and Laura Bush.​
Host
Mr Jon Goldstein​
Regional Director, Southeast Asia, PageGroup ​
Jon has 15 years of experience in connecting women of the C-suite and on boards to both Asian businesses and Fortune 500 companies. He was based in PageGroup Japan, China and now Singapore. In 2020, he interviewed more than 15 senior women leaders in Asia Pacific through PageGroup's Leading Women series. He envisions himself to be part of the gender diversity revolution and hopes to give prominence to women executives and the important elements they bring to senior leadership teams for companies to grow holistically.​